We dedicate to design, supply and service for solvent exactionworkshop, the turn-key oil projects' scope from 100t to 6000t per day.
Main equipments of solvent extracting:

(4)Solvent Condensing

Solvent condensing system is closely connected with evaporation system. The tubes inside Condensers are made of stainless steel, horizontal structure improves the condensing effect and extends the serviceable life of Condensers. So isolvent extractorreach to the purpose of recycling of solvent and making the manufacture's production cost lower.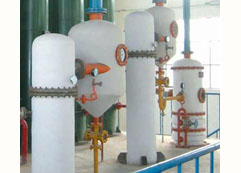 Long Tube Evaporizer
AGICO is the main supplier of solvent extractors, who have specialised in the design and manufacture of solvent extractors.We offer 100t to 6000t per day Solvent Exaction,Solvent Extracting.High quality,best service.